Aart Rietveld - Original Oil Paintings
---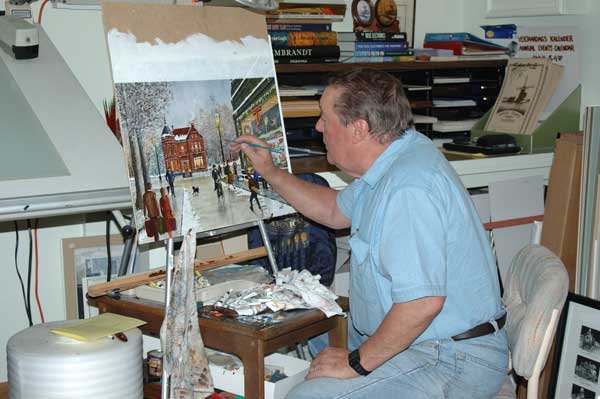 About the artist,
The artist, Aart Rietveld was born in Dordrecht, a city in the southern part of Holland.

He came to the United States in 1960, and at the present time works out of his studio in Arvada Colorado.

In his earlier years he worked primarily in pen and ink, watercolor, and some off the wall collages. The Rocky Mountain News asked him to make a collage out of shredded newspaper commemorating the opening of the 16th. Street Mall.

Shortly thereafter Capital Federal Savings commissioned him to create a collage made out of shredded checks, celebrating the opening of the Children's Museum.

From 1988 through 1989 a collage depicting George Washington made out of shredded currency was on loan to the department of the U. S. Treasury and was on display at the Denver Mint and part of the visitors tour.

For the last twenty years, he has worked exclusively in oils, and is best known in this media.

His subject matter is divided between Europe and the Western United States. His latest endeavor is a series of oils about forgotten trades in Holland. These toughing interiors show in fine detail the victims of automation at work.

Aart is a self taught artist and never had any art education. His unstructured approach is both very simple and refreshing.

In the artist's own words " I have no idea what I'm doing." "I'm like a pianist who doesn't read sheet music." "I don't analyze what I'm doing." "Therefore I couldn't do a painting like it twice because I don't know how I got there."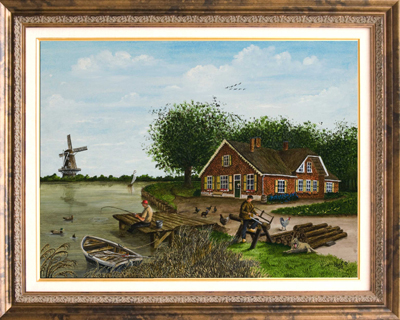 Contact the Artist:
All dimensions are without frame.

For more information and price quotes call or fax the studio at 303-940 7196.

Giclées on canvas are available in different sizes upon request.

To send Aart an e-mail, please click on: aartsstudio@earthlink.net

To see more examples of Aart's paintings click here.
---
Copyright &copy 2009,
&nbsp by Aart Rietveld. All rights reserved. Photographs and artwork may not be copied in any form without the express permission of the copyright holder.